Cummins N14 Engine Parts Intake Valve 135957 Valve Seat Angel 45°
Intake Valve 135957 is fitting on Cummins N14 NTA855 diesel engines . The function of a valve is to supply air to the engine and exhaust gases from combustion.From the engine structure, it is divided into intake valve and exhaust valve.The function of the intake valve is to draw air into the engine and burn it with fuel.The function of the exhaust valve is to discharge and dissipate the exhaust gas after combustion. Valve cone Angle is the Angle of the valve sealing surface, generally is 45 °, some of them are 30 ° . 30 ° valve is considered lift the same case, small taper valve, valve through the end face big, air intake resistance is small, but because of the small taper valve head margin thin, small stiffness, poor sealing and heat conductivity, commonly used for inlet valve.The thickness of valve edge is generally 1~3mm to prevent damage or burn out at high temperature due to impact with valve seat during operation.In order to reduce intake resistance and improve cylinder intake efficiency, most engine inlet Valves are larger than exhaust valves.Used inlet and exhaust valves are also of different colors.
Intake Valve 135957 Specifications
Place of Origin: Chongqing, China (Mainland)
Brand Name: Cummins/CCEC
Cummins Parts Number: 135957
Engine Type: NTA855 N14 diesel engines
Type: Intake Valve, Cummins Engine Part
Engine Application: Turck, Marine,Gen-Set, water pump unit
Warranty: 6 Months
GW: 1.5kg/pcs
MOQ: 12 PCS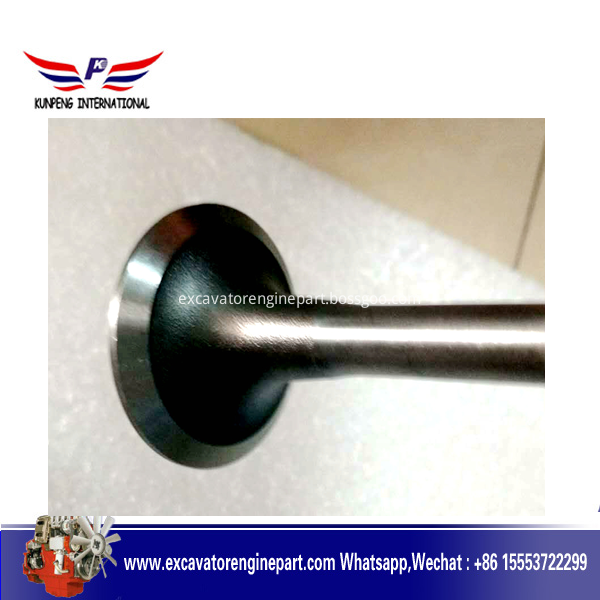 Air intake valve 135957 for cummins K19 engine
Another Cummins Engine Intake Valve List :
| | | |
| --- | --- | --- |
| Intak Valve | 6CT | 3921444 |
| Intak Valve | QSX15/ISX15 | 4101454, 4965868, |
| Intak Valve | M11 | 4926069, 3417779 |
| Intak Valve | K19 | 3035110 |
| Intak Valve | NT855 | 207241,135957,145701 |
| Intak Valve | | 4900338,4900337 |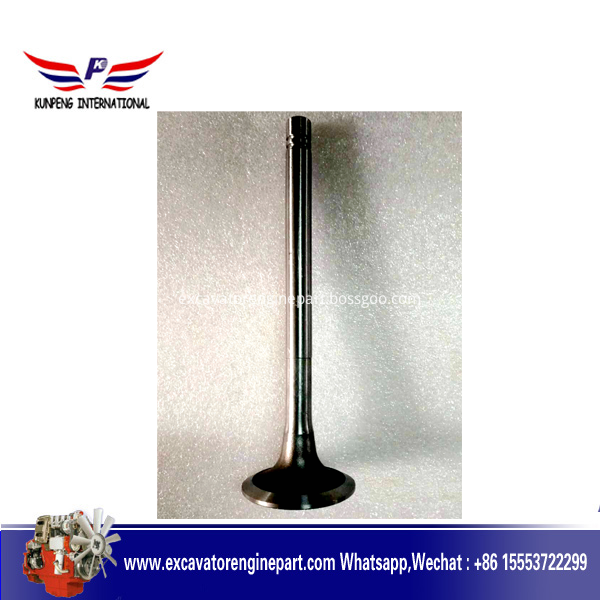 Cummins Diesel Engine NT855 Intake Valve 3803512 135957 3000926 4955698

Company Profile
Jining Kunpeng Construction Machinery Equipment Co., Ltd. was established in 2013 with a registered capital of 200 million yuan, the existing staff of 36 people, is engaged in engineering machinery products and accessories, specialized companies, with independentimport and export rights. The main agent of Komatsu excavators and bulldozer , shantui bulldozer electrical products, Donaldson air filter products; Japanese (Mitshubishi, Komatsu, Isuzu, Kubota, Yanmar ) engine machine and spare parts; Cummins, Deutz diesel engine spare parts, Marine and generator diesel engine spare parts, On firewood, Weichai, large diesel engine accessories; selling well-known brands hydraulic pumps, motors, hydraulic valves. Companies and domestic excavator manufacturing plant (Sany, Lianzhong Branch, Hill redevelopment machine, SDLG, Strong Construction Machinery Co., Ltd., Foton Lovol, Shandong liShide) in close cooperation, has successfully supportingJapanese electronics products, Donaldson air filter, excavator cab, mufflers, Danfoss Auto products, DSE, COMAP, WOODWARD CONTROLLER and other products, with high quality products and perfect after-sales service, won the manufacturers of high praise.
Our company advantage products
We Can Supplied Engine Parts :
Komatsu Engine Parts, Disel Engine Parts , Cummins Diesel Engine parts, DSE Controller, SDLG Loader Parts, Shantui Bulldozer Parts
Cummins A1700, 2300, B3.3, 4B3.9, 6BTA5.9, 6CTA8.3,M11, NTA855, KTA19, KTA38, KTAA50, QSK60 Diesel Engine Parts
Deutz / Volvo Diesel Engine Parts
Isuzu, Mitsubishi, Yanmar, Kubota Engine Parts
Weichai Diesel Engine Parts
Shangchai/ Caterpillar Diesel Engine Parts