Philic Air Release Valve Overview
Philic Air Release Valve automatically cuts off the flow of a liquid or gas at a fixed pressure. Gas pressure regulators are used to regulate the gas pressure and are not appropriate for measuring flow rates. Pressure reducing regulators are used to reducing pressure for various applications.

This series of products made the following improvements in the ordinary decompression valve base, increase the piston area, changing the throttle structure, changes the sealing form, improved pilot valve structure and adjust the spring form, which from the following aspects of improving the performance of the product.

1.improve the pressure sensor on the export performance, improved sensitivity, greatly reduced due to the upstream pressure, pressure deviation flow changes caused by factors such as.

2. improve the streamline distribution, reduces the noise.

3.to improve the sealing surface of the structure, extending the life of the sealing surface.1.It is very safe, reliable, high-performance and energy-saving.

4.It is used for gases Pipes.
Materials of major parts:
Name of parts

Materials

Valve body, Upper cover, Lower cover

Cast iron, cast steel, stainless steel

Regulation spring

Martinel Steel

Piston

Stainless Steel

cylinder liner
Specification Of Product
Type Of Thread

Surface Treatment

Temperature

Pressure

Medium

100% Leakage Testing

ISO228/BSP/NPT

Nickel Plated/Polished Chrome

0≤T

≤

80

℃

1.6MPA

Water/oil/gas
Description Of Parts
Ball

Stem

Sealing

Handle

Nut

Brass Ball With Chrome Plated

/Iron Ball With Chrome Plated

Brass/Iron

PTFE/Plastic

Iron Handle With Plastic/Aluminum Handle/Butterfly Handle

Brass/Steel/Iron




Main size: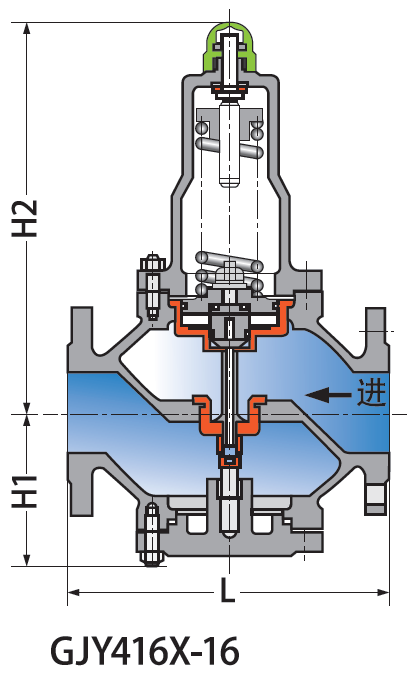 Installation Instruction